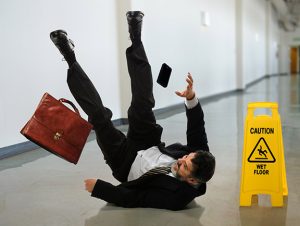 Slip and fall injuries are a common occurrence accounting for more than one million emergency room visits annually according to the National Institute of Floor Safety. They are also one of the leading types of personal injury claims.
Slip and falls can include falling in a stairwell, on a sidewalk or parking ramp, falls on ice or other slippery surfaces and falls in parking lots or on public transportation. Serious injuries from a slip and fall can be life altering or shorten ones' life.
High Desert Law wants you to be prepared in the event of a slip and fall accident and for you to know that property owners have a responsibility to keep their property safe and in cases of negligence, compensate you for your injury and related losses.
High Desert Law can help you understand your options, determine negligence and fight for you to get the maximum financial settlement.
Contact Us
If you or a loved one has experienced a slip and fall injury in Central Oregon or its' surrounding areas, please contact High Desert Law or to learn more about the types of personal injury cases we work with, please visit the specialty areas tab on the website.